Heavy-duty Refrigerator 597L

Heavy-duty Fridges for Research and Laboratory
Alarm test function
This test function can be used to check whether an internally or externally connected alarm system is functioning correctly. The appliance's refrigeration performance is not affected by this test.
Digital temperature display
The digital temperature display indicates the refrigerator's interior temperature to the exact degree. This can be easily read from the outside to give users immediate information and without the need to open the appliance.
Forced air cooling
Highly efficient fans cool freshly stored produce quickly and maintain an even refrigeration temperature throughout the interior.
Efficient refrigeration system
Liebherr guarantees the outstanding quality of its refrigeration systems through expertise derived from decades of experience in the refrigeration technology sector, and through continuous research and development. By employing only premium-quality compressors, condensers, evaporators and other refrigeration components the energy consumption and operating costs of Liebherr appliances are significantly reduced.
Upward-hinged, detachable unit compartment cover
The refrigeration components are safely integrated into the upper section where they can be easily accessed. For cleaning or servicing purposes, the compressor compartment cover can be easily opened on an upward hinge to guarantee excellent accessibility, so it possible to easily clean the filter on the condenser, which is positioned behind the unit compartment cover, without having to move the appliance.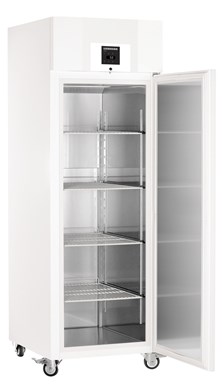 LKPv 6520 MediLine
General product information

Product group output channels
Lab refrigerator with profi electronic controller
Output and consumption
Energy consumption in 24h
1.361 kWh / 24h
Energy consumption per year
497 kWh/a
Noise level
58 dB
Net capacity, total
430 l
Refrigerator compartment
430 l
Refrigerant
R 290
Cooling system, refrigerator compartment
dynamic
Defrosting cooling compartment
automatic
Voltage
220-240 V ~
Frequency
50 Hz
Connection rating
2.0 A
Dimensions and weight
Product dimensions (H/W/D)
216.0 / 70.0 / 83.0 cm
Insulation
83 – 60 mm
Weight (with packaging)
152.00 kg
Weight (without packaging)
126.00 kg
Control and functions
Control
Electronic control system
Control unit
Tasten
Temperature range refrigerator compartment
-2 °C to +16 °C
Temperature display
external digital
Malfunction: Warning signal
optical and acoustical
potential-free contact
✔
Power failure alarm
immediately upon power failure for 72h
Maximum fluctuation
1.0 °C
Gradient
1.8 °C
SmartMonitoring
retrofittable, connectivity application available as option
Design and features
Side wall material
steel
Colour
white
Door/Cover material
Steel
Lock
fitted
Self-closing door
✔
Door hinges
Right replaceable
Material of interior containers
Chrome-nickel-steel
Type of castors
Castors with arrestor at the front, fixed castors at the rear
Storage shelves, refrigerator compartment
5
of which height-adjustable
4
Storage shelf material, refrigerator compartment
Plastic-coated grids
Load capacity storage shelf, refrigerator compartment
60 kg
Illumination cooling compartment
—
Door design
SwingLine design
Handle
Handle moulding
LKPv 6523 MediLine
General product information

Product group output channels
Lab refrigerator with profi electronic controller
Output and consumption
Energy consumption in 24h
1.563 kWh / 24h
Energy consumption per year
571 kWh/a
Noise level
58 dB
Net capacity, total
430 l
Refrigerator compartment
430 l
Refrigerant
R 290
Cooling system, refrigerator compartment
dynamic
Defrosting cooling compartment
automatic
Voltage
220-240 V ~
Frequency
50 Hz
Connection rating
2.0 A
Dimensions and weight
Product dimensions (H/W/D)
216.0 / 70.0 / 83.0 cm
Insulation
83 – 60 mm
Weight (with packaging)
163.00 kg
Weight (without packaging)
136.00 kg
Control and functions
Control
Electronic control system
Control unit
Tasten
Temperature range refrigerator compartment
0 °C to +16 °C
Temperature display
external digital
Malfunction: Warning signal
optical and acoustical
potential-free contact
✔
Power failure alarm
immediately upon power failure for 72h
Maximum fluctuation
1.6 °C
Gradient
2.0 °C
SmartMonitoring
retrofittable, connectivity application available as option
Design and features
Side wall material
steel
Colour
white
Door/Cover material
Insulated glass
Lock
fitted
Self-closing door
✔
Door hinges
Right replaceable
Material of interior containers
Chrome-nickel-steel
Type of castors
Castors with arrestor at the front, fixed castors at the rear
Storage shelves, refrigerator compartment
4
of which height-adjustable
4
Storage shelf material, refrigerator compartment
Plastic-coated grids
Load capacity storage shelf, refrigerator compartment
60 kg
Illumination cooling compartment
Separate connection, LED light
Door design
SwingLine design
Handle
Handle moulding
LKPv 6527 MediLine
General product information

Product group output channels
Lab refrigerator with profi electronic controller
Output and consumption
Energy consumption in 24h
1.883 kWh / 24h
Energy consumption per year
688 kWh/a
Noise level
58 dB
Net capacity, total
429 l
Refrigerator compartment
429 l
Refrigerant
R 290
Cooling system, refrigerator compartment
dynamic
Defrosting cooling compartment
automatic
Voltage
220-240 V ~
Frequency
50 Hz
Connection rating
2.0 A
Dimensions and weight
Product dimensions (H/W/D)
216.0 / 70.0 / 83.0 cm
Insulation
83 – 60 mm
Weight (with packaging)
155.00 kg
Weight (without packaging)
129.00 kg
Control and functions
Control
Electronic control system
Control unit
Tasten
Temperature range refrigerator compartment
-2 °C to +16 °C
Temperature display
external digital
Malfunction: Warning signal
optical and acoustical
potential-free contact
✔
Power failure alarm
immediately upon power failure for 72h
Maximum fluctuation
1.0 °C
Gradient
1.8 °C
SmartMonitoring
retrofittable, connectivity application available as option
Design and features
Side wall material
steel
Colour
white
Door/Cover material
Steel (1 compartment with 2 doors)
Lock
fitted
Self-closing door
✔
Door hinges
Right replaceable
Material of interior containers
Chrome-nickel-steel
Type of castors
Castors with arrestor at the front, fixed castors at the rear
Storage shelves, refrigerator compartment
5
of which height-adjustable
4
Storage shelf material, refrigerator compartment
Plastic-coated grids
Load capacity storage shelf, refrigerator compartment
60 kg
Illumination cooling compartment
—
Door design
SwingLine design
Handle
Handle moulding