A Taste of Genetics MiniLab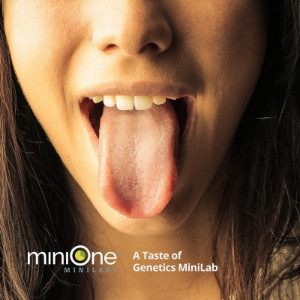 A Taste of Genetics MiniLab with Electrophoresis Reagents and Micropipette Tips (Order no. M6013)
System(s) required: Electrophoresis | PCR
Genetics gets personal as students extract and amplify their own DNA, then utilize PCR and electrophoresis to determine their genotype for the PTC tasting trait using a restriction digest assay.
Description
A comprehensive kit for 10 student groups to extract & amplify their own DNA with PCR and then do a restriction digest assay to determine their genotype.
Teaching AP Biology? A Taste of Genetics MiniLab and extension activities are three Big Ideas in one comprehensive package. Together, these labs are an in-depth exploration of the TAS2R38 gene, covering hands-on genetic analysis, bioinformatics, population genetics, and evolution.Materials Included in each MiniLab:
Contains enough of the following for 10 student groups, 2 – 3 students per group.
Ten 2% Agarose GreenGel™ Cups
One bottle of 100 mL TBE buffer concentrate
DNA extraction solution
Forward and reverse primers for PTC genes
Taq polymerase master mix (2X)
HaeIII restriction enzyme
Restriction enzyme dilution buffer
MiniOne® Sample Loading Dye (5X)
MiniOne® Molecular Weight Marker
One bag of 0.2mL thin-walled PCR tubes
One bag of 0.65 mL microcentrifuge tubes
Forty PTC taste strips
Ten racks of micropipette tips, 96 tips/rack, 1-200µL