AP Series – Advanced Performance UniBloc Balance / Semi – Micro Analytical Balance


Highly-sophisticated simulation technology produced advanced UniBloc AP ™
Increased weighing capacity from 135mg to 220g (0.01mg model)
Micro amount weighing over 135mg (read 0.01mg step) is possible.
Faster Response and Higher Stability
High Speed – Fast weighing response
The response time for trace measurements (from 1 mg) is reduced to about 2 seconds. This significantly improves weighing efficiency.
Stress Free – A variety of accessories and options suitable for semi-micro measurements
The STABLO-AP ionizer can be mounted.
This eliminates the influence of static electricity, achieving reliable measurements in a simpler procedure.
For Regulation-for the Pharmaceutical Industry
Interlocking with LabSolutions Balance enables compliance with a variety of regulations for measurement data integrity, including ISO 17025 for testing laboratories, ISO 9001 and ISO 14001 for the manufacturing industry, and GLP/GMP and the United States Pharmacopeia (USP) for the pharmaceutical industry.
For HPLC
Functions are included for the preparation of buffer solutions used in HPLC.
As a result, the operation can be performed accurately and easily, even by non-specialists.
Save Your Operation
Equipped with USB as standard. Includes many diverse functions to support users.
Features:
Minimum display: 0.01mg / 0.1mg
Maximum capacity: 52g to 320g (Depends on model)
Included built in calibration
Response time for trace mesaurement reduced to about 2s
Optional ionizer eliminates static electricity in 1s
Engineered to resist temperature changes and disturbance.
High visability EL display
Waring signal of minimum sample quantity
Registered sample name or ID can be associated with measurement values
Specific gravity can be measured with specific gravity measurement kit
Easy-to-Read Organic EL Display (All models)
Because the pixel elements in the organic electroluminescence display emit light, the screen can be seen clearly even in dark locations. Multi-language display capability*2 provides a more intuitive operating interface. A wider viewing angle has also improved the visibility of measurement values, which helps increase the efciency of measuring operations.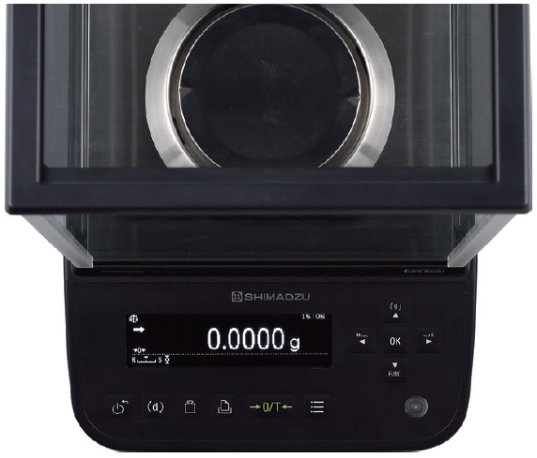 Clear visible from the side

English example

Built-in High-Performance Ionizer (Optional)
The ionizer eliminates influence of static electricity in 1/10 the time of previous models.
Note: Example of typical static electricity removal time (±1000 V –> ±100 V)
1 sec. for STABLO-AP and 10 sec. for STABLO-EX
Ordering Information:
Model
Capacity
Minimum Display
Repeatability
(standard deviation)
Linearity
Response Time
Pan size
AP225W
NEW!
220g
0.01mg
0.015mg (to 20g)
0.03mg (to 100g)
0.05mg (to weighing capacity)
0.1mg
8s
91mm
AP135W
135g
0.01mg
0.05mg
0.1mg
8s
91mm
AP125WD
120g/52g
0.1mg/0.01mg
0.1mg/0.02mg
0.2mg/0.05mg
2s/8s
91mm
AP225WD
220g/102g
0.1mg/0.01mg
0.1mg/0.05mg
0.2mg/0.1mg
2s/8s
91mm
AP124W
120g
0.1mg
0.1mg
0.2mg
2s
91mm
AP224W
220g
0.1mg
0.1mg
0.2mg
2s
91mm
AP324W
320g
0.1mg
0.15mg
0.3mg
2s
91mm
AP124X
120g
0.1mg
0.1mg
0.2mg
2s
91mm
AP224X
220g
0.1mg
0.1mg
0.2mg
2s
91mm
AP324X
320g
0.1mg
0.15mg
0.3mg
2s
91mm
AP124Y
120g
0.1mg
0.1mg
0.2mg
2s
91mm
AP224Y
220g
0.1mg
0.1mg
0.2mg
2s
91mm
AP324Y
320g
0.1mg
0.15mg
0.3mg
2s
91mm