Water Purification System

Omnia pure and ultrapure water systems 
Convenient. Compact. Adaptable.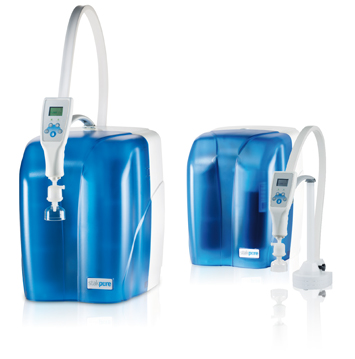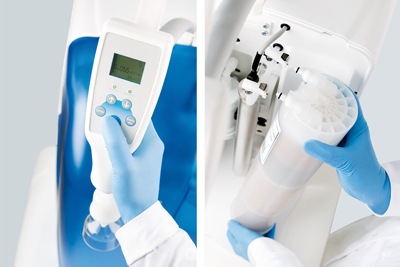 H2O pure. Pure and ultrapure water
For QC, R & D and analytical labs in science, pharmaceutics and industries.
Whether for demanding applications in life sciences and chemical analysis or for supplying analysers, autoclaves and laboratory glassware washers – with seven systems, the new stakpure Omnia series provides the ideal solution for any task and satisfies international water standards such as ASTM, ISO 3696 and CLRW (CLSI). The systems are characterized by their economy and flexibility in many applications.
The Omnia series is extremely convenient to use. All devices are fitted with the Optifill one-hand dispenser with integrated control- and monitoring unit. One-handed operation, removable, can be swivelled and height-adjusted, and with a fl exible connection for easy water dispensing into any type of container.
Compact in design, these space-saving devices with their slender housing can be mounted on the wall, placed easily on the laboratory bench or in a base cabinet. Configure the system you choose for flexible use and economical operation.
The mains unit with automatic voltage adjustment to 24 V enables use anywhere in the world. With the new Omnia series, the name is the programme – Omnia is Latin for "everything".
Separate from the production unit. The external dispenser can be space sparingly wall-fitted or flexibly placed on the lab bench.
Place the production unit under the bench to save valuable space in your lab. Match the positioning to your lab environment with the external OptiFill stand/wall dispenser and monitoring unit. Either practical on a bench or space-saving on a wall.
Type I 

Ultra pure water
Numerous factors influence your decision for an ultra pure water system that exactly matches your requirements, such as the availability of the feedwater, the daily requirements, purchasing and operating costs and other user specific requirements that are decisive for the choice of the right Omnia system.
» OmniaTap is the allrounder with integrated reverse osmosis incl. recirculation tank for Type II pure water and economical ultra pure water Type I.
» OmniaPure is the autonomous specialist with integrated pretreatment and ultra pure water cartridge.
» OmniaLabED+ is the larger allrounder for the complete laboratory. The perfect 100l tank system for both Type II applications and ultra pure water Type I.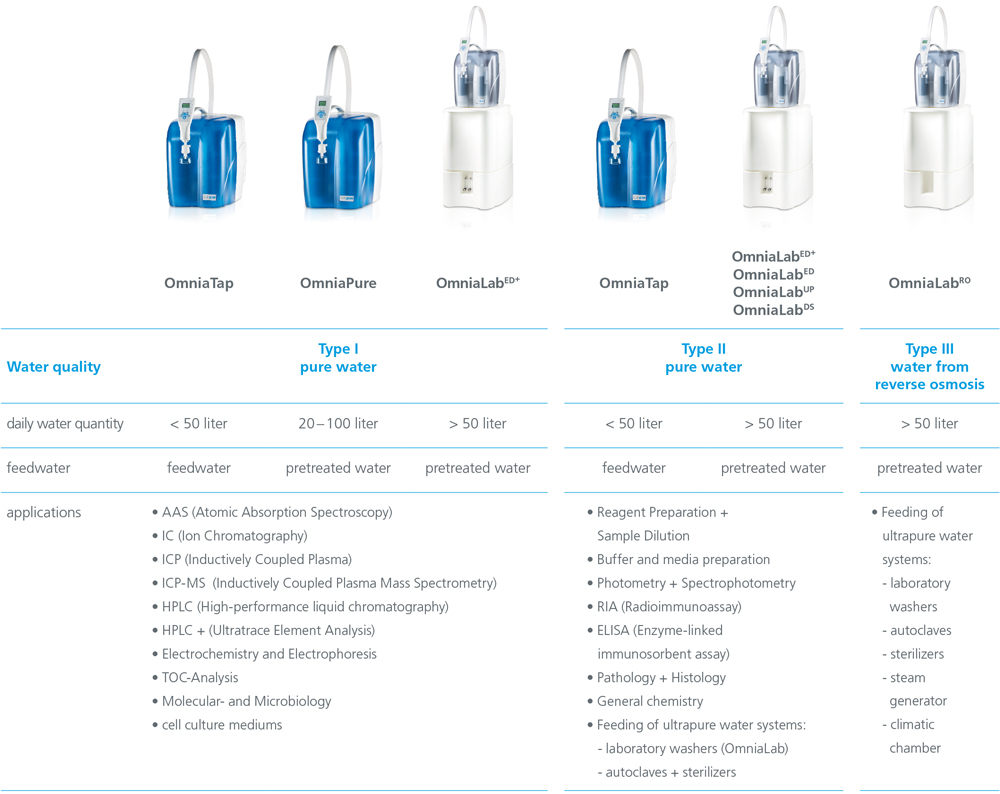 OptiFill Dispenser is standard