Kjeltec™ Distillation Unit

Kjeltec™ 8000 – Kjeldahl Distillation Solutions for Food and Feed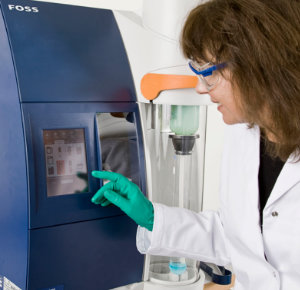 The Kjeltec™ range offers a series of automated distillation units designed primarily for Kjeldahl analysis, but widely used for many different distillation chemistries.
Kjeltec™ features include variable steam output, intelligent cooling water and distillate temperature control, reagent addition, tube emptying and FOSS patented SAfE technology in all models.
A fully automated analyser, Kjeltec™ 8400, with on board self cleaning colorimetric titration system completes the range. Optional Kjeltec™ 8420/8460 Auto Samplers for 20 or 60 samples offer fully unattended operation of the analyser.
| | |
| --- | --- |
| Sample | Parameters |
| Raw materials and finished products in Food, Feed and Agriculture | Nitrogen, Protein |
• Automatic dilution, alkali addition, distillation and tube emptying provide ease of use.
• Variable output steam generator broadens application area to other volatile components.
• Official and accurate procedures (ISO, AOAC, EPA, DIN) simplify validation.
• Patented SAfE* feature for safe distillation of tubes with salt cakes.
• Built-in safety systems for user protection.
• Self adjusting cooling water control saves water and reduces costs.
• Bellows pumps for accurate dispensing of reagents.
• Alkali resistant plastic splash head & tube emptying vessel for long lifetime.
Performance data
Analysis time
3.5 minutes at 30 mg N (6.5 minutes at 200 mg N)
Distillation capacity
~ 40 ml/min
Measurement range
 0.1 – 200 mg N
Reproducibility
 1% RSD (including the digestion step)
Recovery
 > 99.5% at nitrogen levels between 1 – 200 mg N
Installation Requirements
 
Power supply
200 – 240 V 50 – 60 Hz
Tolerable voltage variation
± 10 %
Power consumption
2 200 W
Water consumption
(during distillation only) 3 l/min at water temp of 25°C *1 l/min at water temp of 15°C
* Circulating Cooler recommended at >25°C
Weight
35 kg
Dimensions (W x D x H)
480 × 580 × 690 mm
All the features of the KjeltecTM 8100 plus:
• Receiver solution addition
• Automatic safety door
• External titration connection (Mettler, Metrohm, Schott, etc.)
• Modularly upgradeable to analyser and sampler system
Performance data at 230 V
Analysis time
3.5 minutes at 30 mg N (6.5 minutes at 200 mg N)
Distillation capacity
~ 40 ml/min
Measuring range

0.1 – 200 mg N

Reproducibility
1% RSD (including the digestion step)
Recovery
> 99.5% at nitrogen levels between 1 – 200 mg N
Installation requirements
Power supply
200 – 240 V 50 – 60 Hz
Tolerable voltage variation
± 10 %
 Power consumption
 2 200 W
 Water consumption
(during distillation only)

 

3 l/min at water temp of 25°C

*1 l/min at water temp of 15°C
*Circulating Cooler recommended at >25°C

 Weight net
 Kjeltec™ (8100, 8200, 8400) 35kg
 Dimensions: (W×D×H)
 480 × 580 × 690 mm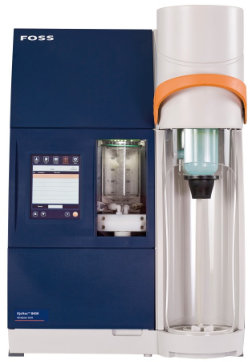 All the features of the KjeltecTM 8200 plus:
• Titration, calculation and reporting.
• Upgradeable to 20 or 60 place auto sampler for fully unattended operation.
• Interchangeable burette for easy titrant exchange.
• Ethernet connection eliminates communication problems with printers and balances.
• Touch sensitive colour display
Performance data at 230 V
Autosampler capacity
Kjeltec™ sampler 8420, 1 rack with 20 Kjeldahl tubes 250 ml or 400 ml
Kjeltec™ sampler 8460, 3 racks with 20 Kjeldahl tubes 250 ml or 400 ml
Analysis time
3.5 minutes at 30 mg N (6.5 minutes at 200 mg N)
Distillation capacity

~ 40 ml/min

Measuring range
0.1 – 200 mg N
Reproducibility
1% RSD (including the digestion step)
Recovery
Installation requirements
Power supply
200 – 240 V 50 – 60 Hz
Tolerable voltage variation
± 10 %
Power consumption
2 200 W
Water consumption
(during distillation only)

 

3 l/min at water temp of 25°C

*1 l/min at water temp of 15°C
* Circulating Cooler recommended at >25°C

Weight net
Kjeltec™ (8100, 8200, 8400)

35kg

Sampler Kjeltec™ 8420

71kg

Sampler Kjeltec™ 8460

89kg

Dimensions: (W×D×H)
480 × 580 × 690 mm
645 × 840 × 900 mm
1000 × 800 × 900 mm
Overview of Kjeltec Models
| | 200 | 8100 | 8200 | 8400 |
| --- | --- | --- | --- | --- |
| Variable output steam generator | | x | x | x |
| Water saving system | | x | x | x |
| Cooling water flow control | | x | x | x |
| Distillate temperature monitor | | x | x | x |
| Polypropylene splash head | x | x | x | x |
| Polypropylene tube emptying vessel | | x | x | x |
| Bellows pumps for reagent addition | x | x | x | x |
| Automatic alkali addition | x | x | x | x |
| Automatic dilution water addition | | x | x | x |
| Automatic receiver solution addition | | | x | x |
| SAfE – Steam Addition for Equilibration | x | x | x | x |
| Tube emptying/Waste collection | | x | x | x |
| Reagent alarms | | x | x | x |
| Removable drip tray | x | x | x | x |
| Automatic safety door | | | x | x |
| Interlocked safety door | | x | x | x |
| Removable safety door | | x | x | x |
| Tube-in-place safety | | x | x | x |
| Tube replacement sensor | | x | x | x |
| Colorimetric titration system | | | Opt. | x |
| External titrator connection | | | Opt. | Opt. |
| Interchangeable burette | | | | x |
| Titration bypass | | | | x |
| Results calculation | | | | x |
| Storage of raw data in instrument | | | | 40 batch |
| Data management PC software | | | | x |
| Storage of raw data with PC software | | | | Unltd |
| Ethernet connection for: | | | | |
| PC | | | | x |
| Balance | | | | x |
| Printer | | | | x |
| Autosampler system 8420 or 8460 | | | | Opt. |