MKUv 1613 (Glass Door)

Pharmacy Refrigerator for medicine and vaccine storage
Pharmaceutical storage: DIN 58345
All Liebherr medical storage appliances comply with the DIN standard "Fridges for drugs DIN 58345". DIN 58345 currently reflects the latest technological advances and establishes precisely formulated requirements in relation to pharmaceutical refrigerators. This guarantees that the appliances are particularly suitable for medicine storage and that they offer the highest standard for conscientious users. DIN 58345 includes the following basic requirements:
‧ Maintenance of an operating temperature from +2C to +8C
‧ Can be used in ambient temperatures from +10C to +35C
‧ Noise emission less than 60 dB(A)
‧ Visual and audible warning installation for high and low temperature alarms
‧ Preparation of operating temperature recording
‧ Visual and audible power failure alarm for at least 12h
‧ Safety thermostat to avoid temperatures below +2C
‧ Mechanical resistance of internal fittings at least 100 kg/m
‧ Lockable door
Digital temperature display
The digital temperature display indicates the refrigerator's interior temperature to the exact degree. This can be easily read from the outside to give users immediate information and without the need to open the appliance.
Efficient refrigeration system
Liebherr guarantees the outstanding quality of its refrigeration systems through expertise derived from decades of experience in the refrigeration technology sector, and through continuous research and development. By employing only premium-quality compressors, condensers, evaporators and other refrigeration components the energy consumption and operating costs of Liebherr appliances are significantly reduced.
Forced air cooling
Highly efficient fans cool freshly stored produce quickly and maintain an even refrigeration temperature throughout the interior.
Alarm test function
This test function can be used to check whether an internally or externally connected alarm system is functioning correctly. The appliance's refrigeration performance is not affected by this test.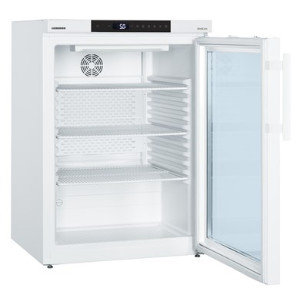 MKUv 1613 MediLine (Glass door)
General product information

Product group output channels
Pharmacy refrigerator with Comfort controller
Output and consumption
Energy consumption per year
369.00 kWh/a
Noise level
47 dB
Net capacity, total
109 l
Gross capacity, total
152 l
Refrigerant
R 600a
Voltage
220-240 V ~
Frequency
50 Hz
Connection rating
1.5 A
Refrigerator compartment
152 l
Dimensions and weight
Product dimensions (H/W/D)
82 / 60.1 / 61.8 cm
Insulation
40 – 40 mm
Weight (with packaging)
48.00 kg
Weight (without packaging)
45.00 kg
Control and functions
Control
Electronic control system
Temperature range
+5°C (fixed)
Malfunction: Warning signal
optical and acoustical
potential-free contact
✔
Power failure alarm
immediately upon power failure for min. 12h
Maximum fluctuation
4.9 °C
Gradient
5.1 °C
SmartMonitoring
retrofittable, connectivity application available as option
Design and features
Side wall material
steel
Colour
white
Door/Cover material
Insulated glass
Lock
fitted
Self-closing door
✔
Door hinges
Right replaceable
Material of interior containers
Plastic white
Type of castors
—
Door design
HardLine
Handle
Ergonomic slimline handle with opening mechanism