Nalgene Bags

Thermo Scientific™ Nalgene™ Beaker
Rely on plastic beakers for a safer alternative to glass, especially in larger sizes. They won't break, chip or shatter during use and cleaning. Lightweight and easy to handle. Chemical resistance, heat tolerance (not for use on hot plates), and spout design make Thermo Scientific™ Nalgene™ Griffin low-form beakers a perfect long-term solution for your graduated beaker choice. Meeting the ISO/DIN 7056 International Standards for Laboratory Plastic Beakers, our polypropylene and polymethylpentene beakers enable precise measurements. Nalgene beakers with handles offer reliable support and dispensing control. Nalgene beakers are made only from high quality laboratory grade plastic materials for dependably lower levels of potential leachables and extractables, so you can rely on them for everyday lab use without interfering with your work.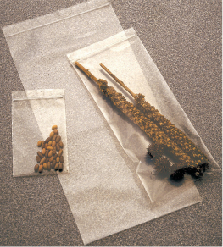 Thermo Scientific™ Nalgene™ LDPE Sample Bags
Nalgene™ Sample Bags are ideal for small lab items, botanical samples and other specimens.
These heavy-duty, double-track zipper bags lock securely, so dry samples stay dry and moist samples stay moist.
details
Low-density polyethylene is clear for easy identification of contents
4-mil thick walls are strong and waterproof, to protect your samples
Bags are waterproof to keep contents dry
Transparent
Notes: Not recommended for storing liquids
Nalgene Sample Bags
| | | | |
| --- | --- | --- | --- |
| Cat. No. | W x L (cm) | No. per Pack | No. per Case |
| 6255-0406 | 10.2 x 15.2 | 50 | 500 |
| 6255-0508 | 12.7 x 20.3 | 50 | 500 |
| 6255-0613 | 15.2 x 33.0 | 50 | 250 |
| 6255-0913 | 22.9 x 33.0 | 50 | 250 |
| 6255-0918 | 22.9 x 45.7 | 50 | 250 |