Nalgene Cylinder

Thermo Scientific™ Nalgene™ Graduated Cylinders
Plastic graduated cylinders are a safer alternative to glass. They won't break, chip or shatter amid the bustle and bumps of everyday lab work. Enjoy their light weight and ease of handling. Simplify volume readings: liquid in plastic cylinders doesn't form a meniscus, and level liquid avoids confusion and errors. Trust Thermo Scientific Nalgene graduated cylinders to be made from the highest quality laboratory-grade plastic materials for dependably low extractables and excellent chemical compatibility with a wide variety of laboratory solutions.
Nalgene plastic cylinders don't form a meniscus like glass cylinders do. You can read the liquid level straight across the graduation line. Avoid confusion and errors by using plastic instead of glass.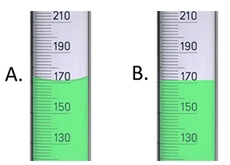 Which graduated cylinders are right for you?
​
Nalgene PPCO ASTM Class B Graduated Cylinders
Nalgene PMP ASTM Class B Graduated Cylinders
Nalgene PPCO
Economy Cylinders
Nalgene PMP Economy Cylinders
Nalgene PFA Fluoropolymer Cylinder
Nalgene
Double Scale Pharmaceutical Graduates
Certified lab quality, milky white cylinder with blue base
Certified lab quality,
clear cylinder
with blue base*
Lower cost,
milky white graduated cylinder
Lower cost,
clear graduated cylinder
Extraordinary chemical resistance, chemically inert
Pharmacist's choice
 
 
 
 
 
 
Guaranteed accuracy
Guaranteed accuracy with visual clarity*
Tight budget, general purpose
Tight budget, visual clarity
Aggressive and reactive chemicals
Pharmaceutical compounding, medication preps
ASTM E1272 Class B ISO standard 6706
21 CFR part 177.1520
ASTM E1272 Class B
ISO standard 6706
21 CFR part 177.1520*
 
ASTM E1094
21 CFR part 177.1520
Molded, inked** mL
Molded,
mL
Molded,
mL
Molded,
mL
Molded,
mL
Molded,
mL and oz
10mL–4000mL
10mL–4000mL
10mL–1000mL
10mL–1000mL
100mL
125mL–1000mL
4oz-32oz
PPCO w/ PP base
PMP w/ PP base
PPCO
PMP
PFA
PMP w/ PP base
Milky white
cylinder
Clear
cylinder
Milky white
cylinder
Clear
cylinder
Milky white
cylinder
Clear
cylinder
Hexagonal
blue base
Hexagonal
blue base
Round
milky white base
Round
clear base
Round
milky white base
Hexagonal
blue base
BPA free
BPA free
BPA free
BPA free
BPA free
BPA free
Phthalate-free
Phthalate-free
Phthalate-free
Phthalate-free
Phthalate-free
Phthalate-free
*Except for PMP 2L and 4L cylinders  which are not certified to meet  ASTM E1272 accuracy requirements
** Except 2L and 4L sizes