Nalgene Funnels

Thermo Scientific™ Nalgene™ Plastic Funnels
Nalgene plastic funnels are a safer alternative to glass. They won't break, chip or shatter amid the bustle and bumps of everyday lab work, and won't dent or corrode like metal funnels. Enjoy their light weight and ease of handling.
Trust Nalgene funnels to be made from the highest quality laboratory-grade polypropylene copolymer (PPCO), high density polyethylene (HDPE), low density polyethylene (LDPE), and polypropylene (PP) materials for dependably low extractables and compatibility with a broad range of lab materials.
With so many sizes and styles, there are Nalgene plastic funnels to serve a wide variety of lab applications.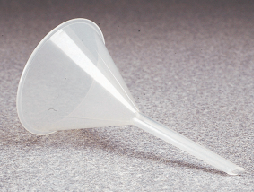 Which funnels are right for your application?
Nalgene PPCO
Long Stem Analytical Funnels
Nalgene PPCO Powder Funnels
Nalgene PPCO Utility Funnels
Nalgene HDPE Large Funnels
Nalgene LDPE  Heavy-Duty Funnels
Nalgene PPCO Büchner Funnels
Classic long stem design
Classic wide bore stem design
Wide tapered funnel to stem transition
Large size, classic design
Super rugged for rough and tough work conditions
Classic Büchner design in shatterproof plastic
Use with standard filter papers for analytical techniques
Use in transferring powder, crystalline chemicals for reagent prep
Use for transferring liquid, pastes, small solids, granular/powder, or viscous samples, reagents
Use for transferring large volumes of liquids
Toughest funnels available for heavy-duty use
Replaces ceramic Büchner funnels for solid sample prep, treatment. Two-piece design, easy to clean
External ribbing
prevents air lock
External ribbing
prevents air lock
Not ribbed
External/internal ribbing
prevents airlock
Ribbed
Not ribbed
Top diameter
34mm – 158mm
Top diameter
65mm – 147mm
Top diameter
65mm – 155mm
Top diameter
201mm – 258mm
Top diameter
101mm – 248mm
Top diameter
59mm – 172mm
Fits standard size
filter papers
Fits standard size
filter papers
PPCO
PPCO
PPCO or HDPE
HDPE
LDPE
PP
Milky white
translucent
Milky white
translucent
Milky white translucent
Milky white
Milky white
Opaque white
Temp range
-40oC to 121oC
Temp range
-40oC to 121oC
Temp range
PPCO:
-40oC to 121oC
HDPE:
-100oC to 120oC
Temp range
-100oC to 120oC
Temp range -76°C to 70°C
Temp range
0oC to 135oC
Autoclavable
Autoclavable
PPCO autoclavable HDPE is not
Do not autoclave
Do not autoclave
Autoclavable
Complies with
Part 21
CFR 177.1520
for food use
Complies with
Part 21
CFR 177.1520
for food use
Complies with
Part 21
CFR 177.1520
for food use1
Complies with
Part 21
CFR 177.1520
for food use1
Complies with Part 21
CF 177.1520
for food use 1
Complies with
Part 21
CFR 177.1520
for food use
BPA-Free
BPA-Free
BPA-Free
BPA-Free
BPA-Free
BPA-Free
Phthalate-free
Phthalate-free
Phthalate-free
Phthalate-free
Phthalate-free
Phthalate-free