Nalgene Jars

Thermo Scientific™ Nalgene™  Plastic Jars
Nalgene jars are heavy-walled and made to last a long time through the rigors of daily lab life. Trust Thermo Scientific Nalgene jars to be made from the highest quality laboratory-grade plastic materials for dependably low extractables. Straight-sided jars offer easy access and viewing of contents. Mason jars are designed to mate up with a variety of blenders with classic Mason jar threads.
Nalgene jars are recommended for storing pastes, solids, specimens and lab supplies. Please note, however, Nalgene jars are NOT liquid leakproof and are not recommended for shipping or transporting liquids.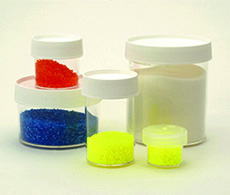 Which jars are right for you?
Nalgene PC Straight-sided Jar
Nalgene PMP Straight-sided Jar
Nalgene PPCO Straight-sided Jar
Nalgene PPCO Mason Jar
Nalgene PP Jar with Friction-Fit Cover
Nalgene PC Jar with Friction-Fit Cover
Clear wide-mouth, threaded PP closure
Clear wide-mouth, threaded PP closure
Milky-white wide-mouth, threaded PP closure
Classic mason style with shoulder, threaded PP closure
Multi-purpose, milk-white PP straight-sided
Window clear multi-purpose straight-sided
Screw-on lid
Screw-on lid
Screw-on lid
Screw-on lid
Friction-fit lid
Friction-fit lid
Volume range:
15mL–1000mL
Volume range:
60mL–1000mL
Volume range:
15mL–1000mL
Volume range
500mL–3000mL
Volume range
2.2L–4.6L
Volume range:
2.2L–18.8L
PC jar,
PP closure
PMP jar,
PP closure
PPCO jar,
PP closure
PPCO jar, PP mason closure
PP jar,
PP lid
PC jar,
PC lid
Window clear
Good clarity
Milky-white translucent
Milky-white translucent
Milky-white translucent
Window clear
Temp range
-135 to 135oC
Temp range
20 to 153oC
Temp range
-40 to 121oC
Temp range
-40 to 121oC
Temp range
0 to 135oC
Temp range
-135 to 135oC
Autoclavable
Autoclavable
Autoclavable
Autoclavable
Autoclavable
Autoclavable
Complies with
21 CFR part 177.1580
for food use
Complies with
21 CFR part 77.1520
for food use
Complies with
21 CFR part 177.1520
for food use
Complies with
21 CFR part 177.1520
for food use
Complies with
21 CFR part 177.1520
for food use
Complies with
21 CFR part 177.1580
for food use
Contains BPA
BPA-Free
BPA-Free
BPA-Free
BPA-Free
Contains BPA
Phthalate-free
Phthalate-free
Phthalate-free
Phthalate-free
Phthalate-free
Phthalate-free