Nalgene Nunc Benchtop Coolers

Thermo Scientific™ Nalgene™ Nunc™ Benchtop Coolers
Nalgene™ Quick Chill™ Unit is designed to rapidly and repeatedly cool down biological samples such as ethanol precipitations for DNA/RNA, bacteria and viruses.
Rapidly and repeatedly chills biological samples down to -20°C
Can be used repeatedly for up to 45 minutes eliminating the inconvenience of dry ice/alcohol baths
Break-resistant polycarbonate stackable design with a convenient carrying handle
Rubber feet to keep the unit from sliding on the bench surface
The self-contained unit eliminates the need to use traditional coolants such as dry ice/alcohol or acetone slurries which can be difficult to obtain and unsafe to handle. There is no contact with the coolant so the label or marking stays intact.
Our benchtop coolers protect enzymes, cells, reagents and solutions by maintaining freezer temperatures while on the laboratory bench.
details
Maintain freezer temperature during the frost-free cycle, power failure and accidental door opening
Holds 12, 20 or 32 tubes
Inserts are included for use with 0.2-0.5 mL microcentrifuge tubes
Printed grid on one-way keyed lid for proper orientation and sample identification
Molded of impact-resistant polycarbonate with locking handle for long-term use
Stackable to save space
Cat. No.
# of
Compartments
Tube
Compatibility
Style
Holds Temp.,
Time
Dimensions,
L x W x H
(mm)
No. per
Case
355501
4 x 5
0.2 – 0.5ml
Non-filled/
Clear lid
<-15°C,1 hr
226 x 165 x 133
1
5115-0012
3 x 4
0.2 – 0.5ml
Non-filled/
Clear lid
<-15°C,1 hr
151 x 108 x 125
1
5115-0032
4 x 8
0.2 – 0.5ml
Gel-filled/
White lid
<-15°C,2 hrs
243 x 157 x 146
1
DS5114-0012
3 x 4
Cryovials
0.2 – 1.5ml
Gel-filled/
Clear lid
<-15°C,45 mins
151 x 108 x 125
1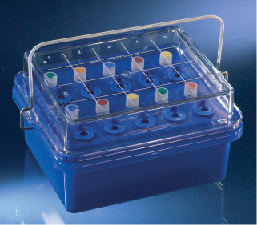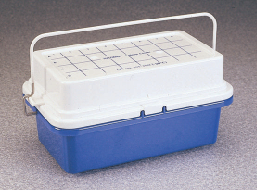 Cat. No.
# of
Compartments
Tube
Compatibility
Style
Holds Temp.,
Time
Dimensions,
L x W x H
(mm)
No. per
Case
5116-1300
3 x 4
12 – 13mm
diameter tubes
Non-filled/
Clear lid
<1°C,5.0 hrs
197 x 140 x 190
1
5116-1600
3 x 4
16 – 17mm
diameter tubes
Non-filled/
Clear lid
<1°C,5.0 hrs
197 x 140 x 190
1
DS5116-0012
3 x 4
0.2 – 0.5ml
Cryovials and
microcentrifuge
tubes
Non-filled/
Clear lid
<1°C,3.5 hrs
151 x 108 x 125
1
DS5116-0032
4 x 8
0.2 – 0.5ml
Cryovials and microcentrifuge
tubes
Gel-filled/
White lid
<1°C,5.0 hrs
243 x 157 x 146
1