STABLO-AP Static Electricity Remover

STABLO-AP provides reliable measurement by removing static electricity.
AC corona discharge method enables excellent ion polarity balance
Wide angle static removal
High performance maintained over a long period of use
No inverse charging
Shimadzu's unique 2-WAY Ionizer: hand-held / on stand
Static Electricity Removal by Ion Irradiation
With the high-frequency AC corona discharge method, Shimadzu's STABLO-AP ionizer provides a stable ion balance and excellent static removal performance on samples and containers. Precision weighing work becomes remarkably efficient. Electrodes are safely housed inside the unit.

AC Method Produces Excellent Ion Balance
AC method: AC voltage is applied on the discharge needle and a well-balanced mixture of positive/negative ions is emitted in rapid alternation from one electrode.
DC method: DC voltage is applied to a couple of electrodes. One is positive and the other is negative. Each electrode emits ions of one polarity only. An effective static removal angle is limited if the two electrodes are distanced. As electrodes deteriorate, initial ion balance is lost.

Applications: 
On Stand

While being neutralized, charge-prone samples can be injected into a container without being scattered. You can also easily neutralize spatulas and sample bottles in the midst of the work flow.
Samples can be neutralized before weighing measurements.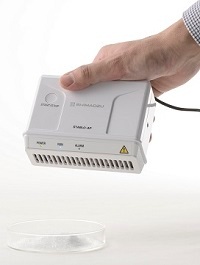 Hand Held
You can neutralize sample static electricity during weighing measurements.
Move the unit freely to any position where static electricity is a concern and then neutralize it.
Specifications:
| | |
| --- | --- |
| Ion Generation Method | AC corona discharge method |
| Ion Balance | ±10V |
| Effective Static Removal Range | 50 – 400 mm from the outlet |
| Static Elimination Time (approx.) | 1 second (Typical value) (from ±1000 V to ±100 V) |
| Ozone Concentration | 0.06 ppm |
| Electrode Probes | Tungsten (durability: 30,000 hours) |
| Weight | Approx. 710 g (Main unit: 395 g, Stand: 315 g) |
| Operating Temperature and Humidity | 0 ºC to + 40 ºC, 25 % RH to 85 % RH (non-condensing) |
| Rated Electric Power Supply | DC 24 V, 1.0 A |