Our Values, Your Satisfaction
Quality, Safety and Efficiency
Most of hazardous tasks performed in a laboratory should be carried out inside a fume hood.
For this reason, at Flores Valles Hoods Division we work so that our fume hoods and grossing workstations are of the highest Quality. We develop products with the most advanced technology that combines and guarantees above all safety, cost effectiveness and energy efficiency.
Under the premise of remaining integrated in a scientific environment in continuous evolution, we have created Technical Laboratory Furniture and laboratory products able to respond to any present or future need of the most demanding user.
Designing the laboratories of the future
Safety, flexibility or capacity are some of the concepts which in a subtle aesthetic balance define our Line of Technical Products for Adapta System Laboratories. The most advanced steel treatments available to the scientific world, generating a perfect synthesis between design and technology.

Continous improvement,our raisond'être
At Flores Valles Hoods Division we insist on Quality as a basic parameter of our work. Our primary concern is dedication both to the manufactured product and the company itself, always by means of constant improvement in our processes and methodologies.
.
A High Quality Product
All our products are certified under the most demanding global standards, as EN14175 and ANSI/ASHRAE.
ADIPROL®: Low reticulated thermopolymerized resin. Improves the behaviour of the Epoxy coating against chemical attacks by acids, chlorinated organic compounds, sulfonates, nitrates, aromatics and ketones.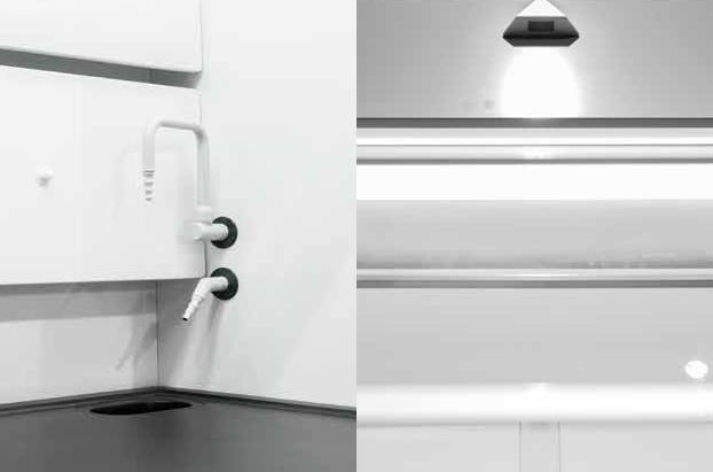 Safety is our priority
For our R+D+i team, safety in the Laboratory is a priority which is embodied in the selection of the raw materials and in the design of the equipment. Many of the jobs carried out in a Laboratory involve a high level of risk for the user.
.
A Design linked to Safety
The design and the use of the highest-quality Steel guarantees all the safety evaluations expressed in standard EN14175 with regard to Containment and Robustness.
All our designs have been developed by a team of aeronautical engineers, ensuring that the air flow is distributed equally throughout.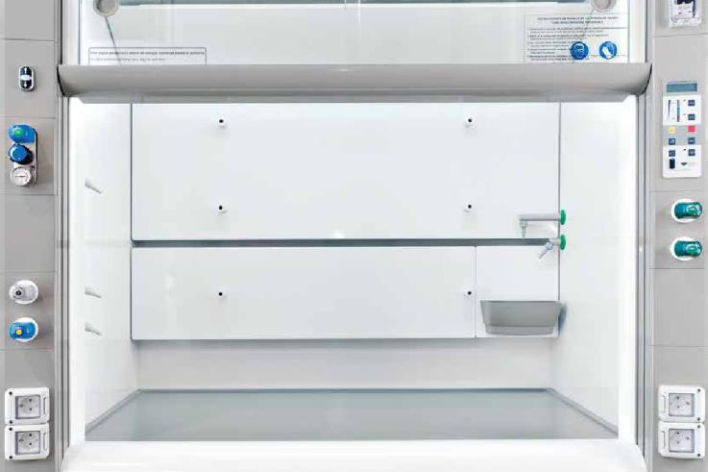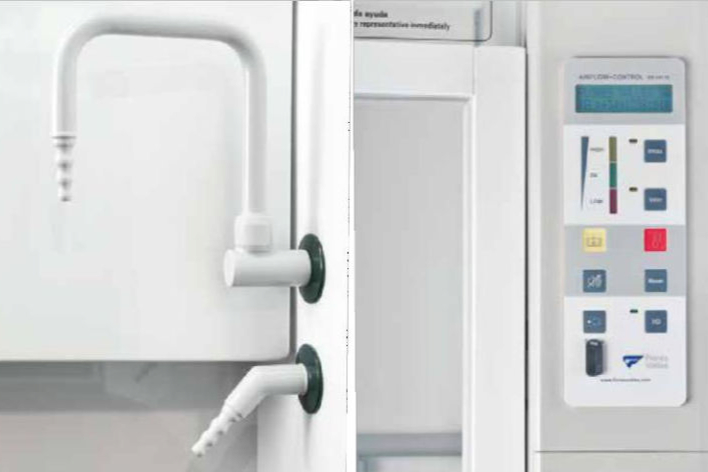 Air conditioning and energy saving
Once the safety of the user is guaranteed, which is the main objective of a Fume Hood, a proper Laboratory project must include the requirements of these as part of the air conditioning of the room or of the building. This way, it is possible to reduce the average cost of air and the environmental impact of its expulsion to the exterior.
Ergonomics
In addition to safety, when developing of our range of Fume Hoods we have kept very much in mind the comfort of the user. All models contain many details which make use and maintenance easier.
Low environmental impact
The intensive use of metallic and inert materials in our production ensures that our fume hoods have an extremely low environmental impact at the end of their useful life. Almost all the components are recyclable.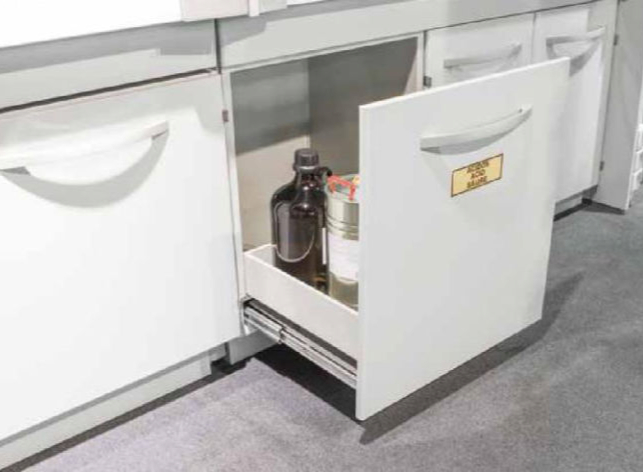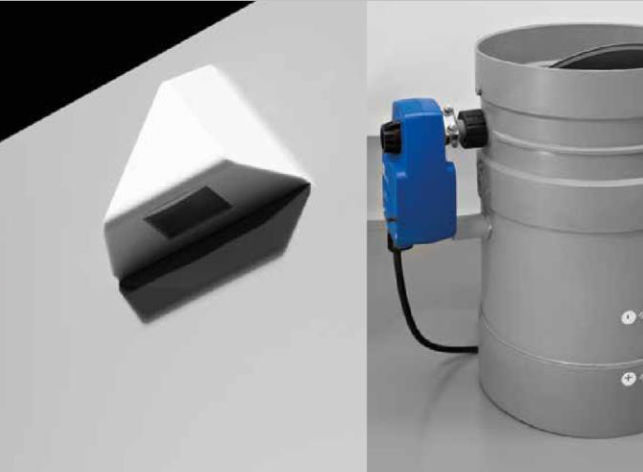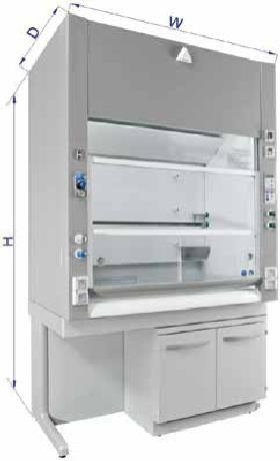 Interior cabin coated in ADIPROL® and stainless steel
Internal lighting > 500 lux, Protection IP65
Electrical sockets: "Schuko": CEE 7/4 Type F, 10/16A IP-44. British: BS 1363 Type G, 13A IP-44 USA: NEMA 5-15 Type B, 15A IP-44. Other requirements on demand.
Worktops: Ceramic, Epoxy Resin, Stainless Steel, Polypropylene
Accessories (Optional): Emergency Light with UPS, Waste collection system, Local exhaust taps, Fire extinguishing system, Automatic Sash Controller, Mobile or fixed cabinets in lower body, Noise level reduction. Option of cabin coated in Ceramic.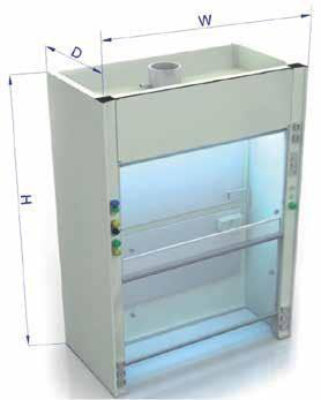 Accessories (Optional): Emergency Light with UPS, Filters, Fire extinguishing system, Automatic Sash Controller, Noise level reduction
Personalized design: Dimensions, equipment, etc.
Other requirements on demand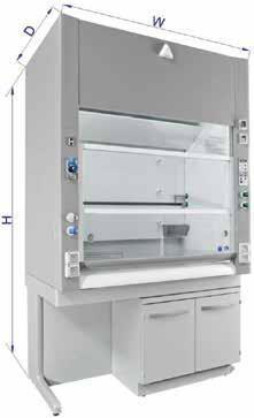 Lighting, accessories, electrical sockets and functional system as per Standard model
Strong Acids: Interior cabin lining in POLYPROPYLENE or, optional, moulded fiberglass.
– Worktops in Polypropylene or Ceramics.
– Accessories (Optional)Waste collection system, Local exhaust taps, Fire extinguishing system, Automatic Sash Controller, Cabinets for Strong acids and Alkalis, Neutral or Atex, Baffle automatic cleaning system.
Scrubber (Optional): Compact design Integrated or floor mounted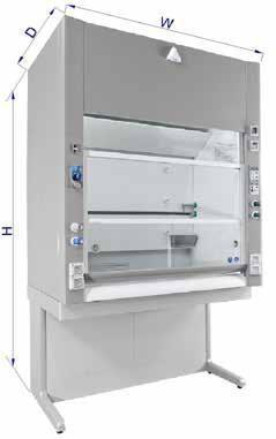 Perchloric acids: Interior cabin coated in Stainless Steel or Ceramic
– Worktop made in one single piece of Stainless Steel AISI 304

Lighting, accessories, electrical sockets and functional system as per Standard model
Beta and Gamma Radio-isotopes: Interior cabin lining in 2 mm thick sheet of lead.
– Worktop made of Polypropylene with 2 mm thick lead armor-plating on bottom, 10 mm leaded glass (RD50) exterior sash with two circular openings, Metallic attenuator (optional)
– Option of cabin made in one single piece of Stainless Steel (AISI 316)