MiniOne PCR and Electrophoresis Package IV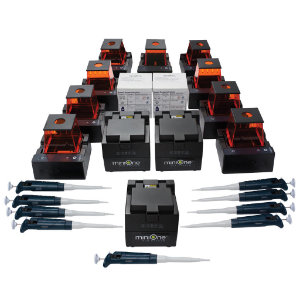 MiniOne® PCR and Electrophoresis Package IV (Order no. M4039)
Purchase a combo package of educational MiniOne PCR and Electrophoresis systems for teaching hands-on bioscience labs in the classroom.
This PCR and electrophoresis package is ideal for teaching hands-on molecular biology concepts using DNA amplification and separation in the classroom. It includes the systems needed for nine groups of two to three students, and includes:
Three MiniOne® PCR Systems – CE marked
Two PCR validation kits
Nine MiniOne® Electrophoresis Systems – CE marked
Nine 2-20 microliter variable volume micropipettes FREE
This MiniOne PCR and electrophoresis package combines two educational bioscience products that work together seamlessly to teach students both DNA amplification and separation concepts. Use them with MiniOne MiniLabs for engaging, efficient, practical bioscience education that is ideal for the classroom setting.