Membranes for Dispensers
Sterile MCE Membranes for Dispensers
Available in 0.45μm and 0.80μm pore sizes
White or Black membranes with gridded surface
Pre-sterilized and ready to use
100 individually sealed filters in a continuous pleated band
Compatible with various dispensers(Microsart e.motion, EZPak, Membrane-Butler)
Membrane specifications and lot number are printed on clear cover of each filter.
Applications:
Mixed Cellulose Esters (MCE) membrane is a general purpose filter used in many applications for the microbiological examination of water, wastewater, pharmaceuticals, food, and beverages. The membrane not only has high recovery rates, its high porosity provides superior flow rates as well.
White MCE

White MCE membranes are widely used for the purpose of enumeration of microorganisms and to view color reactions. This is the filter of choice for the examination of water and wastewater and applications in the pharmaceutical, medical, food and beverage industries.
Black MCE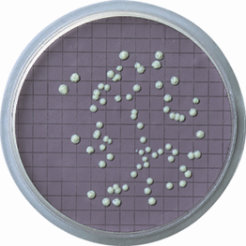 The use of a black membrane helps minimize eye fatigue and can assist with counting colonies by providing a color contrast between the filter and microorganism, yeast, and mold without the need for a counter-stain. This is the filter of choice for the examination of bottled water, carbonated beverages, beer, and wine.
 For Specification and Ordering Information, please click here.