Spark-free Freezer with electronic control

Laboratory Freezer with electronic control and spark-free interior
Explosion protection: ATEX 95
The Atex 95 certification confirms that Liebherr laboratory fridges and freezers with explosion protection are appropriate for the storage of explosive and highly flammable materials within the meaning of EU Directive 2014/34/EU (ATEX).
Alarm test function
This test function can be used to check whether an internally or externally connected alarm system is functioning correctly. The appliance's refrigeration performance is not affected by this test.
Efficient refrigeration system
Liebherr guarantees the outstanding quality of its refrigeration systems through expertise derived from decades of experience in the refrigeration technology sector, and through continuous research and development. By employing only premium-quality compressors, condensers, evaporators and other refrigeration components the energy consumption and operating costs of Liebherr appliances are significantly reduced.
Temperature alarm
The integrated temperature alarm indicates if the lower or upper alarm thresholds have been breached. It uses both acoustic and visual signals to provide maximum security for goods that have been stored.
Temperature stability and consistency EN 60068-3
All laboratory refrigerators and freezers are tested at the state-of-the-art Liebherr development facilities according to procedure EN 60068-3 for measuring temperature stability. This involves measuring the temperature at nine different points in the appliance interiors.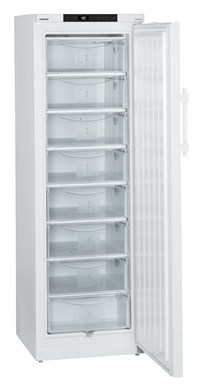 LGex 3410 MediLine
General product information

Product group output channels
Lab freezer with Comfort electronic controller
Output and consumption
Energy consumption in 24h
1.309 kWh / 24h
Energy consumption per year
478 kWh/a
Noise level
45 dB
Net capacity, total
284 l
Freezer compartment
284 l
Refrigerant
R 600a
Cooling system, freezer compartment
static
Defrosting freezer compartment
manual
Voltage
220-240 V ~
Frequency
50 Hz
Connection rating
1.5 A
Dimensions and weight
Product dimensions (H/W/D)
184 / 60.1 / 61.8 cm
Insulation
77 – 65 mm
Weight (with packaging)
91.00 kg
Weight (without packaging)
86.00 kg
Control and functions
Control
Electronic control system
Temperature range refrigerator compartment
-9 °C to -30 °C
Temperature display
external digital
Malfunction: Warning signal
optical and acoustical
potential-free contact
✔
Power failure alarm
when mains power returns
Maximum fluctuation
4.2 °C
Gradient
6.9 °C
SmartMonitoring
retrofittable, connectivity application available as option
Design and features
Side wall material
steel
Colour
white
Door/Cover material
Steel
Lock
fitted
Self-closing door
✔
Door hinges
Right replaceable
Material of interior containers
Plastic white
Type of castors
—
Water drain
—
Drawers in freezer compartment
8
Storage shelves freezer compartment
8
Shelf material
Evaporator plates
Load capacity adjustable shelves freezer compartment
24 kg
Door design
HardLine
Handle
Ergonomic slimline handle with opening mechanism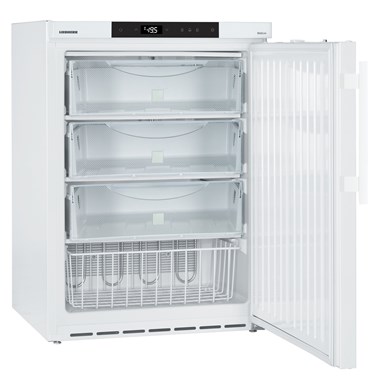 LGUex 1500 MediLine
General product information

Product group output channels
Lab freezer with Comfort electronic controller
Output and consumption
Energy consumption in 24h
0.803 kWh / 24h
Energy consumption per year
294 kWh/a
Noise level
45 dB
Net capacity, total
129 l
Freezer compartment
129 l
Refrigerant
R 600a
Cooling system, freezer compartment
static
Defrosting freezer compartment
manual
Voltage
220-240 V ~
Frequency
50 Hz
Connection rating
1.0 A
Dimensions and weight
Product dimensions (H/W/D)
82 / 60.1 / 61.8 cm
Insulation
55 – 55 mm
Weight (with packaging)
45.00 kg
Weight (without packaging)
42.00 kg
Control and functions
Control
Electronic control system
Temperature range refrigerator compartment
-9 °C to -26 °C
Temperature display
external digital
Malfunction: Warning signal
optical and acoustical
potential-free contact
✔
Power failure alarm
when mains power returns
Maximum fluctuation
3.3 °C
Gradient
6.6 °C
SmartMonitoring
retrofittable, connectivity application available as option
Design and features
Side wall material
steel
Colour
white
Door/Cover material
Steel
Lock
fitted
Self-closing door
✔
Door hinges
Right replaceable
Material of interior containers
Plastic white
Type of castors
—
Water drain
—
Drawers in freezer compartment
3
Baskets in freezer compartment
1
Shelf material
Evaporator plates
Load capacity adjustable shelves freezer compartment
24 kg
Door design
HardLine
Handle
Ergonomic slimline handle with opening mechanism